We sell Japanese Antiques, Kimono, Obi, old articles of daily use, etc.
You can buy good at reasonable prices and get ideas how to enjoy them.
Please come and visit us and have a good time in an old-era atmosphere.
We also have a cafe so you can relax.
1. Kimono cloth for patch work and hand making
- We cut the cloth from 10cm for your needs.
- We are selling bags and accessories made of old Kimono and Obi. You can get some ideas.
-
2. Kimono and Obi
- New Kimono is expensive and you hesitate to buy one, but second hand Kimono is reasonable price so feel free to buy one.
-Hope you can enjoy Japanese traditional life at the present day with them.
- We also teach how to wear Kimono.
- We provide more than 2000 pieces.
3.Japanese Antique
- Our antiques are not for just looking but for daily use.
- Antique clocks
- Japanese traditional dolls made approx 150 years ago.

4.Cafe
- We provide Starbucks caffee, juice, glass of wine etc.
- Please enjoy the table setting and relax.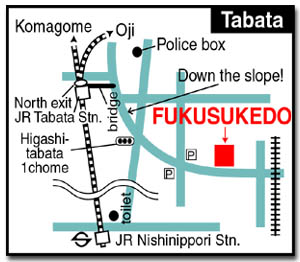 Address: 1-9-11 Higashi Tabata Kita-ku Tokyo Japan 114-0013
Open: Monday - Saturday 11:00-17:00
Access: 5 min work from JR Tabata (Yamanote-line)
Tel: 03-3800-2288
---

Copyright (C) F U K U S U K E D O. All Rights Reserved.